The Insurance Services Group Structure
The Insurance Services Group was formed in 2008 and has matured to include several subsidiary businesses that have either been organically grown from start up or strategically acquired to complement the Group's existing service offerings.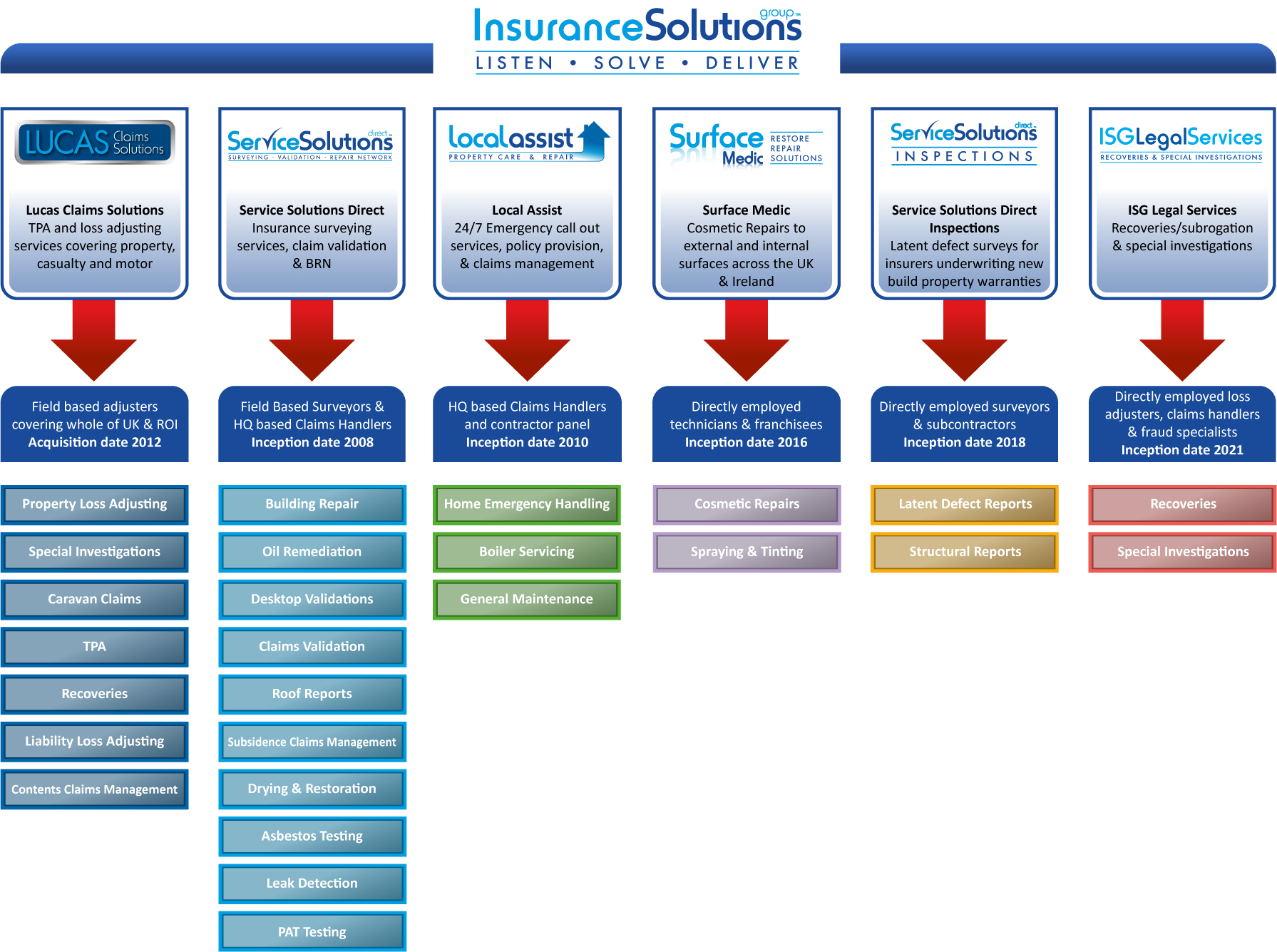 Services
Clients can select from all ISG services at a granular level in a 'pick n mix' approach that allows ISG to provide a bespoke solution to fit a client's exact requirements.
At the core of all of the services ISG provide we aim to ensure that we are delivering the 4 key objectives of:

An excellent customer experience

Assist our clients to retain their customers

Reduce claim life cycles

Reduce claim costs for our clients
The Group currently operates from a Head Office in Preston supported by offices in Basildon, Belfast and Cork. We are able to offer our services across the UK and Southern Ireland.
We are looking to achieve these goals through the following critical success factors:

Resilient, effective and cohesive Group IT facility to ensure we are providing cutting edge technologies to clients and partners

High quality Third Party Administration function - experienced and qualified

Specialist/highly skilled loss adjusters

Surveyor led property repair/restoration/reinstatement model provides clients with better cost control for our clients and an improved experience for customers

Well trained and appropriately qualified claims handling staff with dedicated teams for each client to ensure their philosophies are adhered to. Includes a 247 function and the ability to make cover decisions on beheld of policy providers

In-house qualified drying and restoration division offering UK coverage providing a cradle to grave solution for property claims ensuring damage is mitigated from day one

A vetted and managed quality contractor network across all trades

Cosmetic repairs offer a value added service for repair rather than replacement