Cosmetic Repair Services are provided by our subsidiary company Surface Medic.
Surface Medic is part of our goal to offer a unique and complete solution for insurers and construction clients looking to save costs, time and the environment. Surface Medic is a specialist repair and restoration service, its purpose being to alleviate the cost and hassle associated with traditional replacement techniques.
Services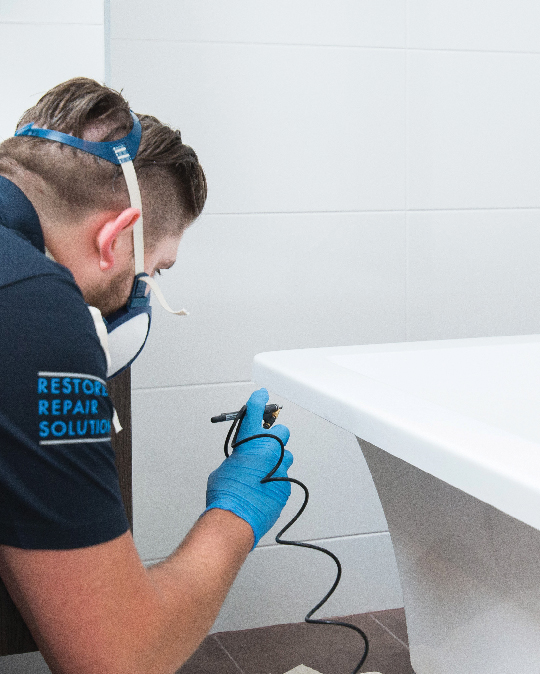 Surface Medic was created to fill a gap in the market that has been on the rise for the past few years. As the industry has progressed the focus has been on trying to make the claims process more cost effective and to reduce waiting times for both the client and the consumer.
Replacing an item can be the cause of a lot of hassle and disruption. Costs increase dramatically where multiple contractors are involved in the replacement process. Surface Medic provides the perfect solution to this common scenario by offering its specialist restoration services that can repair most types of damage at just a fraction of the cost.
Surface Medic is able to help and support a wide range of businesses where it is crucial that a pristine and flawless property is presented. Our expertly trained and highly qualified directly employed technicians use high-tech products and the latest cutting-edge technology to invisibly repair cracks, chips, scratches, burns, holes and much more. We restore wood, laminates, glass, plasterwork, tiles, ceramics, plastics, UPVC, various colours of brick and different types of stone including granite. With common areas including windows, doors, walls, flooring, worktops, furniture and sanitary ware.
We operate quickly and reliably with a no mess, no stress policy to help smooth over the entire process for our clients. Our service is managed by a team of trained claims management staff in Preston, operating 24/7.
Surface Medic provides an environmentally friendly solution. Repairs rather than replacement reduces the volume of landfill waste associated with replacement. This assists in the reduction of carbon footprints and facilitating the achievement of government, and often client targets for waste reduction.
We have a rich history of working directly with insurance companies where our bespoke claims handling system efficiently satisfies both insurer and policy-holder expectations. Our unique service is an excellent way of reducing the duration of the claims lifecycle as we are able to quickly dispatch technicians and carry out repairs on-site.

For many more examples of our work, visit our gallery
Benefits

Reduced costs – repair not replace

Shorter claim lifecycles

Environmentally friendly solution

Automatically utilised where appropriate as part of the SSD, LCS and LA supply chains